Vision for an Integrated Cell-Material Science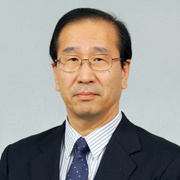 Susumu Kitagawa
Director
Institute for Integrated Cell-Material Sciences (iCeMS)
Kyoto University
January 2013
All cellular processes can ultimately be comprehended as chemical events, and such a chemical understanding of cells should allow us to mimic cellular processes using chemical materials. Our institute seeks to illuminate precisely such a chemical basis of cells, creating compounds to control processes in cells such as stem cells (materials for cell control) in addition to sparking cellular processes to create chemical materials (cell-inspired materials). Combining Kyoto University's established strength in cell biology, chemistry, and physics to delve deeply into the mesoscale world lying at the boundary of materials and life, we are making a concerted effort, through interdisciplinary research, to ultimately create a new research field ofintegrated cell-material science.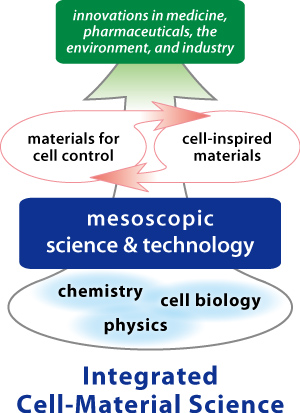 Efforts to explain cell functions using chemistry are not new. Biochemistry, for instance, uses proteins as a starting point in attempting this at a molecular level, and molecular biology, while also focused on molecules, takes a DNA-based approach. And in their own ways, both methods have yielded significant innovations in pharmaceuticals and biotechnology.
Meanwhile, cell biology has also seen substantial success by considering the cell as a whole, most notably in research related to embryonic stem (ES) cells and induced pluripotent stem (iPS) cells, which are beginning to make an impact on the biomedical industry.
Our institute seeks a middle ground: between the large, whole-cell approach of cell biology, and the small, protein and DNA approaches of biochemistry and molecular biology. We call this the mesoscopic realm, lying between a few tens and a few hundreds of nanometers, on the border between materials and living matter. Investigating this boundary region, we strive to explain the material-chemical basis of cells' living functions, ultimately using materials to create facsimiles of these mechanisms.
A study of the melded boundary between cells and materials based on a fusion of cell biology, chemistry, and physics is our goal. We seek to be the best in the world, with the fruits of our international, interdisciplinary labors bringing nourishment and fresh ideas to research in industries as diverse as medicine and the environment.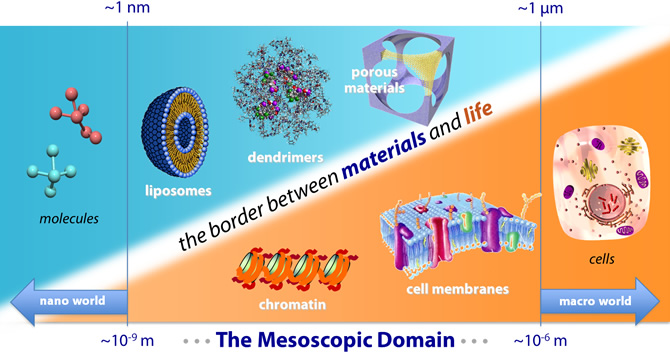 Our efforts are focused on examining the following two questions:
(1) Can we describe mesoscopic cellular processes in terms of chemistry?
Cells sustain life through properties of self-assembly and cooperative interactions among nearly countless chemical materials, moving ceaselessly in space and time. Broadening our scope beyond the narrow confines of nanoscale molecular interactions, we find it necessary to take a wider, mesoscopic view of molecular complexes. To accomplish this, we are pursuing the development of advanced imaging technologies and modeling, and physical and chemical technologies to dissect complex cellular events. We plan to focus on the following three areas:
Gene Expression Control in Stem Cells, such as a mesoscopic understanding of gene expression in cellular reprogramming and differentiation, and the development of materials to control such expression.
Organized Functions on the Cell Membrane, such as a mesoscopic understanding of mechanisms controlling channels and transporters, and the development of materials to control such systems.
Biogas Control, such as a mesoscopic understanding of mechanisms involving gsases in living systems, and the development of porous materials for cellular control using such gases.
(2) Can we reproduce mesoscopic cellular structures with materials, and manipulate them?
Renowned physicist Richard P. Feynman once wrote: "What I cannot create, I do not understand." In other words, only in the process of creation can we achieve true understanding.
In this spirit, our institute aims to replicate mesoscopic cellular functions with designed materials (cell-inspired materials). This should be possible once a full understanding of such cellular processes (as described above) has been achieved. We therefore simultaneously advance analysis and synthesis, applying the resulting higher level of knowledge to further research, such as in the proposed creation of the following chemical materials:
Membranes for Cell Membrane Functions, such as the development of materials based on a mesoscopic understanding of the complex balance and interaction of processes on the cell membrane.
Energy Storage in Cells, such as the creation of mesoscopic materials mimicking living systems' abilities to sort and store energy bearing ions and molecules, and materials to unlock the energy storage potential of carbon dioxide and nitrogen gas.